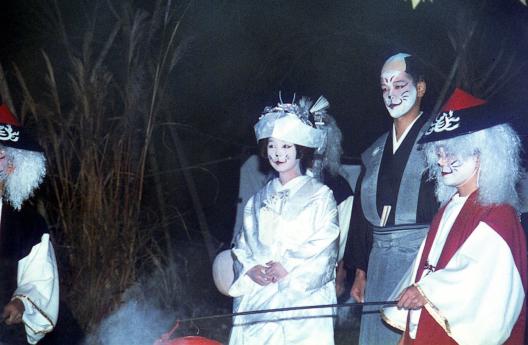 Held annually in the old town of Hida Furukawa in northern Gifu, the "Kitsunebi Matsuri," or "Fox Fire Festival," is an event that celebrates tradition, mysticism, and one fairy tale in particular.
It is said in Japan that a line of lamplights in the dark of night are actually lights that foxes have lit as part of a marriage procession. In Furukawa, this procession is recreated, and it is said that any who look upon the fantastic and mysterious sight of the foxes' marriage will be blessed with good fortune and bountiful crops in the coming year.
Make your way to Furukawa, transform yourself into a fox with makeup that you can have done at any number of stalls throughout the town, and watch as the procession of fox brides and grooms marches towards the site of their marriage ceremony!
Date: September 24
Time:
1:00pm: Sampling the autumn flavors and foods of Hida City
2:00pm: Fox make-up stalls open throughout the town
6:00pm: Marriage procession begins
8:00pm-9:00pm: Wedding ceremony
Venue: Hida City, Furukawa Town residential and commercial districts
Website: http://www.city.hida.gifu.jp/kanko/matsuri/event/03kitsunebi_matsuri/index.html (Japanese)
Contact: 0577-74-1192