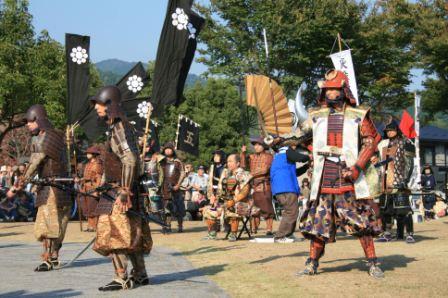 The Battle of Sekigahara, perhaps the most famous battle in all of Japanese history fought in 1600, determined the course of the nation for next several hundred years. It's significance is widely regarded, and it still captures the imaginations of many Japanese to this day.
This coming weekend, on October 15th and 16th, the annual Battle of Sekigahara Festival will be held in the town of Sekigahara itself, the sight of the climactic fight. As in previous years, a grand parade of soldiers, a gun firing ceremony, and a battle-reenactment that brings to life the historical picture scrolls depicting the actual battle are highlights of the festival. From all around the country, more than 200 armor-wearing, rifle-bearing people will be coming to participate in the above events!
...And as a special treat, this year's festival will be adding a brand new element; not only will the battle be recreated and celebrated on the field, it will also be recreated on the stage, through theater and music! The Qublic Theater troupe will be performing "The Gale of Shimazu," which honors the battle participants not through swordplay but through dance. And there will be several live performances by two singers/groups whose songs share the thematic element of Sekigahara. This multi-faceted tribute is sure to be entertaining and stirring, so you won't want to miss it!
In addition to all of the above events, there will be much more, including but not limited to discussions, social gatherings, and markets where you can find all sorts of historical goods and foods to enjoy!
Generally speaking, the theatrical and musical performances will be on the 15th, while the battle reenactments, parades, and firing ceremonies will be on the 16th.
Time: 10:00am - 4:00pm
Venue: Sekigahara Fureai Center and its surrounding areas and the Mt. Sasao Parking Lot, Sekigahara-cho, Fuwa-gun, Gifu
Access: Train from JR Gifu Station to JR Sekigahara Station on the Tokaido Main Line towards Maibara (transfer at Ogaki Station may be necessary)